Reels Royce Slots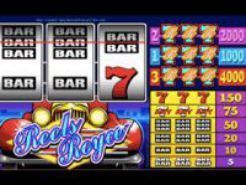 Play Now
Straight from Microgaming's portfolio of classic slots Reels Royce has a tongue in cheek theme of wealth and prosperity. With only one line to bet on, there is very little distracting you from the game at hand. The simplistic style is typical of Microgaming's early slots and for this reason it is not to be underestimated. This is one of the games that made this software giant a forerunner in the industry. The graphics are simple, they are not loaded, but they are clear and pristine. The reels are given some shading to give them the impression of being round. There is only one page with the paytable embedded in it. This page is overall very attractive.
Classic slots are just like a classic car
Whatever you do, do not misjudge these single line slots. Their paytable is the key to understanding the game. Although there is only one payline there are as many as 3 coins that you can bet on that line. No matter how many coins you bet the payouts are the proportional to the bet except in the case of the jackpot payout. The jackpot pays out 1,000 coins per coin bet, but by betting max there is a bonus of 1,000 coins on top of that. A player can adjust the coin size of the game as well. Starting from 25c and moving up to $5, hitting the jackpot can pay you out between $1,000 and $16,000 as long as you are playing all three coins per line. At a max bet of $15 this is a very stylish ratio! This game is suited to beginners and serious jackpot hunters. Your chances of hitting the jackpot get better and better with each spin so play the game in a way that your bank roll will last as many spins as possible while still being able to reap the rewards when the jackpot cracks under the pressure. This is a nice game to use the expert function with. If you are planning on throwing a few hundred spins at the machine, set up autoplay. Microgaming has a really hot little feature on the side of the game. This is the jackpot thermometer and the hotter it gets, the closer the jackpot is to boiling over. This nifty device is based on when the jackpot was last won and when it should blow again based on averages.
Bars and Sevens
Mimicking an old pub fruit slots machine the game has a variation of sevens, triple double and single BAR symbols, and freshly plucked cherries. Your jackpot symbol is the Reels Royce seven, easily recognizable by the elegant 'R' embossed onto its front. 3 of these on your center payline wins you top prize! Reel in the cash with this tasteful slot, designed to give you a good ride for your money. Play and win in style by downloading the casino software and getting an account – your ticket to ride.