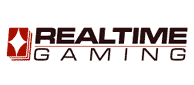 Among the many software providers for online casinos available today, none is more recognizable than Real Time Gaming or RTG Casinos. The reason for this they have been in existence since 1997 and they feature the Real Series Slots, which are highly evolved slot games with fabulous graphics. With more than 150 casino games in its portfolio, RTG Slots have the best animation, bonus rounds, free spins, and multiple paylines making their slots exciting and fun to play. But perhaps the greatest asset that RTG casinos offer is that they feature the random progressive jackpot. For online players, this is especially significant because there is need to get 5 symbols in a row to win the jackpot! With RTG software, any combination can win the big prize!
RTG Casinos Welcome US Players
Perhaps the greatest advantage in playing at RTG Casinos is that they welcome US players. Every month, we are seeing more and more RTG casinos emerge and that's a plus for US players. In addition to Vegas Technology casinos, RTG casinos give players more choices in not only choosing a casino to join, but in the selection of games offered as well. Moreover, their software is very user friendly and easy to install.
RTG Casino Bonuses
Most all of the RTG casinos not only offer fantastic bonuses, but use the free coupon system so that you can easily obtain these bonuses when you join. In fact, RTG casinos make it easy for you to keep your bonus and your real money separate. This allows you to easily fulfill the wagering requirements necessary to ensure you receive the bonuses offered. RTG Casino bonuses are considered to be some of the most lucrative in the online casino industry, and redeeming a free coupon code to activate your bonus has never been easier. Not only are the bonuses fantastic, but so are RTG Casino promotions. Every year, they seem to get bigger and better for online US players.
RTG Casino Games
The piece de resistance, of course, is the directory of RTG casino games. Currently, there are over 60 RTG casinos offering such games as: video poker, baccarat, keno, blackjack, roulette, and craps, scratch cards, and bingo. But it's the slots that attract players to RTG casinos. Why? Take a look at this roster! RTG casinos feature 14 classic slots; 18 progressive slots; 71 Real Series Slots; 16 Video Slots; 21 Bonus Slots; and 77 Free Spins Slots. The real series slots' popularity has soared, and here's a sample of why they are a hit among players.
Jackpot Cleopatra's Gold Slots is a real series bonus progressive video slot featuring wilds, scatters, and up to 15 free spins.
Bunko Bonanza Slots is a real series bonus progressive video slot featuring wilds, scatters, wild multipliers, and 21 free spins.
Mermaid Queen Slots is a very popular real series bonus progressive video slot featuring wilds, scatters, and 10 free spins.
As you can see, there is something for everyone at RTG casinos. If you want to experience slot play like never before, we urge you to join our RTG casinos where everything's progressively wild and free spins are in abundance!
New RTG Slots
RTG News