Cleopatra Slot Machine
When an online casino slot's main progressive jackpot is hit by a player, it's an exciting event for the player and for the online casino who houses that game. Typically jackpots are not hit very often on the same game, which allows the progressive jackpots to rise to bigger numbers every day, drawing in more players who are trying to win them as they grow larger. However, in the month of January, the Cleopatra Slots (A Night With Cleo Slots) at Bovada Casino had a progressive jackpot that was hit four times. This news is almost unheard of, making many players around the world wonder if Bovada Casino offers the loosest slots in the industry.
Who Won A Night With Cleo Progressive Jackpots At Bovada Casino?
The latest winner of the Night With Cleo progressive jackpot at Bovada Casino is player Shannon S. from Michigan. Shannon took a chance and wagered $1 on the slot game on January 30th. Of course she had no idea what she may win with that small wager, but quickly became excited as she noticed her spin triggered the A Night With Cleo Slots random progressive jackpot and she won an immediate $114,698. The other three January winners for the A Night With Cleo Slots at Bovada Casino included a payout of $435K on January 24th, a payout of $359K on January 8th, and a payout of $57K on January 6th. Bovada Casino hasn't seen this many wins from a single game in such a small time frame ever before.
Why Are The Payouts Different Amounts In Slot Games Online?
One question many new players ask is why would the payouts of the last four winners vary in size so much? When it comes to online slot games, various things could come into play to answer that question. In this particular case, the random progressive jackpot is the culprit. A random progressive jackpot does not sit at a specific amount for very long. In fact, the more time goes on and the more players who play the game, the higher it will climb. Thus, at any given time it can be lower (if it's been recently hit) or higher (if it hasn't been hit for a while). These players all hit the jackpot at different times, when it was at different levels, which is why their payouts are different.
Boy King's Treasure slots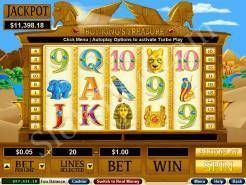 Are you going to join the hunt for the Boy King's Treasure Slots ? This jackpot slot was designed by RTG and provides you with five reels to spin when searching for prizes over 20 paylines. The Boy King acts as a wild, providing a 2x multiplier during the free games. Find more than one wild and they multiply together up to 16x! These spins are gained by finding three scattered snakes on the reels, bringing you 15 free spins.

Cleopatra's Gold slots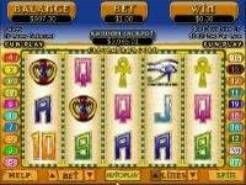 Another thrilling slot based in ancient Egypt this one also comes from RTG. This five-reel, 20-line game counts Cleopatra herself as the substitute. She is feeling generous in this game, doubling all prizes she helps you get on those reels. Meanwhile, three Egyptian pyramids must appear scattered across the reels to award 15 free games. These may bring richer prizes as everything is tripled in value.

Jackpot Cleopatra's Gold slots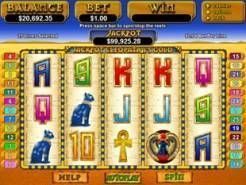 The same slot, only better? That's what is in store for you if you check out this amazing game. The major difference between this and the original slot is the presence of a progressive jackpot. That means a slice of every real bet made goes into the pot. Someone is going to find the total dropping into their lap if they hit the random trigger that unlocks the big prize. Who is going to get that prize next?

Pharaoh's Gold slots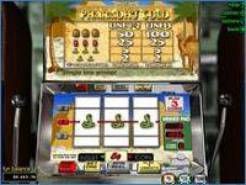 Gold features in a lot of ancient Egyptian slot games. In this case, this three-reel RTG slot has three paylines and therefore offers a smaller game than the ones mentioned above. The pharaoh's eye is all seeing, and it works as a wild symbol during the game. It can substitute for everything else to help increase the chances of securing a prize. Few people love snakes, yet two are enough to trigger a prize here.