Free Chips At Ignition Casino
Ignition Casino has a great reputation for rewarding their players for loyalty. There are a few ways they hand out the rewards, with the prizes being determined by how much a player wagers and deposits throughout the month.
Free Chips At Ignition Casino
Ignition Casino's top players can earn automatic free chips, without much effort. They don't even need to make a deposit to get a free chip. The free chip option will simply show up under the player's account and they need only to click on the "Claim" button in order to utilize it.
Welcome Free Chip Bonus At Ignition Casino
Oftentimes Ignition Casino will offer special promotions that give free chips to any new player. For example, when new players currently sign up at Ignition Casino, they can input the REVFREE20 code and receive a $20 free chip, without making a deposit. Only brand new players can take advantage of this offer, so if you've made a wager at the casino before, it will not be available for you to utilize at this time.
It is a way to enjoy a no deposit bonus at Ignition Casino, to be sure the player enjoys the game selection and format before they make a bigger commitment with a deposit. This should in no way be taken for granted, as fewer and fewer online casinos are now offering no deposit bonus codes. In fact, they are almost obsolete within the market. So, it's a good time to take full advantage of a $20 free casino chip.
Bonus Balance Questions Answered: Ignition Casino
When players log into their Ignition Casino account, they'll automatically see the cash balance amount at the right top side of the screen. These funds are separate from any bonus funds. So any funds from a free chip at Ignition Casino or other bonus won't show up in this area.
The bonus page will show a player's bonus balance and funds. Players can look around in this area to see if they can use their bonus funds to play a specific game, as not all games will accept bonus funds.
Although it can be a bit tricky to understand, the match bonuses a player gets from making a deposit stays in the bonus funds until the player bets on a game. At that point the funds get released to the cash account and are considered released funds.
Choose the best Ignition slots to play with free chips
The first thing you should know is how easy it is to get in some practice with the slots at Ignition Casino. If you want to check them out, you can do so with free chips. These are included with all demo versions of the games. If you want to try a slot before choosing whether to play with real bets, this is the best way to make it happen. Make sure you check out these slots too, as they are among our favorites.
It's time to start digging with Gold Rush Gus!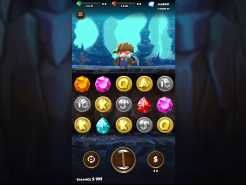 Gold Rush Gus is a great title for an entertaining slot game featuring Gus the gold miner as he digs for gold and gems. You'll spot him above the reels as you play. You've got a liquor bottle appearing as the substitute, while the FREE SPINS symbol must appear on reels one, three, and five to grant those free games. You could get up to 15 spins here with a multiplier worth 2x, 3x, or 4x in action too. Lava Free Spins can randomly be triggered, while two keys on the reels can bring one of four prizes from the treasure chest that will then be unlocked…
Is it a bird? No, it's Multiplier Man!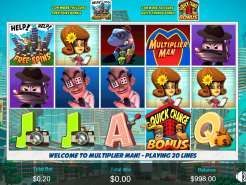 Isn't that the best name for a superhero who appears in his own slot game? Multiplier Man is an engaging five-reel slot that comes in cartoon form. There are free spins to be found, complete with some stacked wilds, and Ken Kash can appear and transform into Multiplier Man if a wild manages to pop up on each of the odd-numbered reels. Between five and 20 free games can be granted with three, four, or five scatter icons. Meanwhile, the Quick Change Bonus symbol must appear at least three times to trigger this bonus feature. All this and you get the chance to unlock the random X-Ray Bonus feature too.
Behold the Reign of Gnomes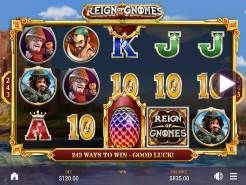 You won't win anything for guessing what the inspiration behind that title was. We all know about the Game of Thrones TV show, and if you have seen it you might spot some familiarity with the gnomes in this game. We did, anyway! The game looks impressive, delivering 243 ways to get prizes over the five reels. Three, four, or five scattered dragon eggs will secure five, 10, or 20 free games in the Dragon Spins feature. You might also benefit from the Golden Wheel Bonus feature.